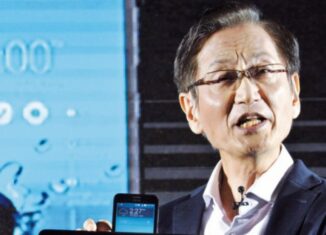 Thin glasses, slim-cut suit and humor with all British irony: Peter Clark cannot go unnoticed at Asus headquarters, a soulless building lost in the suburbs of Taipei, the Taiwanese capital. Nothing to do with the colorful atmosphere of the giant campuses of Silicon Valley. At the Taiwanese manufacturer, founded twenty-five years ago by die-hard engineers, product demonstrations and technical explanations resemble lectures, barely disturbed by the flies that can be heard flying in poorly-designed rooms. illuminated.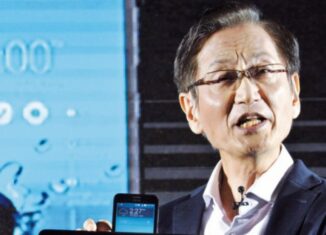 Breakthrough in shelves
"Sometimes we have to fight with the engineers, when they tell us that it is impossible to do the things we want to produce"says Peter Clark, who joined the Asus design team eight years ago. At the time, it only had about fifty people. By dint of recruiting targeted at international talents, its workforce has since quadrupled, and around twenty nationalities are represented. "We didn't really care about design until 2007, loose Eric Chen, one of the vice-presidents of Asus. We have tried to instill this concern in all employees. Honestly, it hasn't been easy. "
According to global tablet sales figures, the company's transformation is a success. In the space of two years, Asus has risen to third place in the world market, far behind the untouchables Apple and Samsung, but ahead of Amazon. This performance owes a lot to the success of the Nexus 7 tablet, launched in collaboration with Google, one of the bestsellers of 2013. But also to its own products, such as the Memo Pad.
In total, the group sold more than 11 million tablets last year, while the PC market collapsed, thanks to which it has built its notoriety over the past decade. In 2013, the Taiwanese sold only 20 million units, a number that fell 18% over one year, leading to a drop in its net and operating results. Only its turnover grew, by 2%, to 10.4 billion euros. In a heckled environment, Asus managed to limit the damage, unlike its compatriot Acer, in full financial turmoil. "We particularly suffered because we were by far the leader in netbooks [ordinateurs ultraportables, NDLR], of which we are the inventors, recalls Clément Guillaumin, marketing director of Asus France. Since the arrival of tablets, this market has declined by 70% per year. "
Cultural revolution
Rather than insisting on products that have become obsolete, the company has therefore sought to adapt by in turn leaving the digital slates of its factories in Shenzhen, in southern China. But it was necessary to review the design mode of terminals that consumers, accustomed to the Apple iPad, want not only efficient, but also beautiful, ergonomic and fluid. "The big challenge was to install Asus as a design brand, admet Peter Clark. But things have turned out very positively. "
The bet was far from won: the Taiwanese company started in the production of components for PCs, and in particular motherboards, a market in which it is still the world leader and which still constitutes 40% of its revenues. Suffice to say that she does not have in her genes the culture of the sexy and prescriptive mass product …
Along with its development in tablets, Asus has embarked on an all-out overhaul of its range of computers, focusing on so-called "hybrid" products. This strategy reached its peak at the beginning of June, with the release of a curious "five-in-one" device, the Transformer Book V, which is a computer, tablet and mobile phone at the same time, running either Android or Windows. respective operations of Google and Microsoft. "The ultimate convergence ", according to the CEO of the group, Jonney Shih, who gave himself as a leitmotif "the quest for the incredible ". "Our goal is to provide consumers with an unprecedented experience, taking into account changing uses ", explains Eric Chen. For him, "the PC market is not dead, it just needs to be renewed ".
At Asus, we are convinced that the PC will remain the center of computer life at home, the tablet serving as a second screen. By focusing on hybrid products, defined by Clément Guillaumin as "PC 2.0, more complete than old-fashioned PCs ", the group imagines going beyond this dichotomy and finding a place in the sun on the two markets.
Asus is not afraid to display its ambitions. He is attacking the smartphone market this year with his Zenfone, which he hopes to sell 5 to 10 million units by December 31, and will probably soon invest in connected watches. "We want to catch up with Apple and Samsung to become the major player in information technology ", trumpets Eric Chen, recalling that the Korean manufacturer was almost nothing in the sector five years ago, before the release of its famous Galaxy. "Our industry is very dependent on the success of a few products ", he adds.
Profusion of novelties
So the manufacturer sprinkles all the time, chaining product launches, hoping that one of them will find its audience, as was the case for netbooks in their time. "The problem with this strategy is that it lacks consistency and readability,says Alexandre Buselli, partner at Deloitte. The products offered, often simple upgrades of existing devices, are not always sufficiently successful to have a decisive competitive advantage. " This contradicts the efforts made elsewhere on the image. "Their main strategic issue is brand perception ", abounds Thomas Husson, consultant at Forrester Research.
In the expensive game of marketing, the Taiwanese is much less powerful than the kings of the genre, Apple and Samsung. It must also compete with Chinese manufacturers with low costs and long teeth, such as Lenovo, which advances with lightning speed and the power of a steamroller. Caught between these behemoths, Asus must extricate itself as quickly as possible. On pain of being reduced to dust.