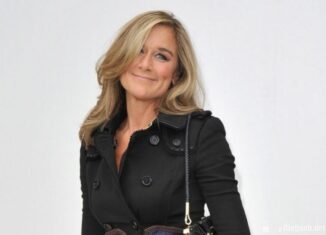 September 19, 2014 will remain for her "an unforgettable launch day ". As some did for the New Millennium's Eve, Angela Ahrendts managed to split on the globe to live twice the first day of sale of the iPhone 6. She first attended in Sydney the unboxing of the new ones. Apple jewelry before doing the same in California. "Phenomenal start to a historic day ", she wrote on Twitter while in Australia, taking care to thank the sellers on the spot, of which she is the new big boss: "It is an honor to be with our incredible team. "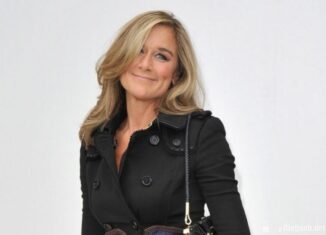 The only woman in charge
The arrival of the new smartphones from the Apple brand, which broke the record of 10 million units sold in three days, was the official entry into the scene of the new head of distribution for the group founded by Steve Jobs. A crucial position: the face of the only woman on Apple's management team now appears in second position on the organization chart, just after that of CEO Tim Cook. After a hundred days of discreet work, here it is again in the spotlight. The pressure is great on the shoulders of the former president of Burberry bombarded at the top of the most emblematic company of new technologies.
"I was slightly worried at first, she replied this summer to an employee during a question-and-answer session. Was I going to be able to adapt to a tech company, I being a half left brain and half right brain manager? " The fashion executive has indeed long theorized her own management style, fueling both creativity and rationality. But was she really so anxious to land in a company whose founder once described himself as "an artist imprisoned in the body of a businessman " ? "She is so Apple! " one of the people in charge of the distribution of the firm would have exclaimed when he met her a few weeks ago.
For Tim Cook, she is the rare pearl
His arrival actually marks a homecoming for the Cupertino group. Like Ron Johnson who created the first Apple Store in 2001 with Steve Jobs, imagining this revolutionary space with a Genius Bar, Angela Ahrendts does not believe in frenzied sales. A store, in his eyes, is above all the embodiment of a brand. Like Ron Johnson, she spends a lot of time chatting with salespeople. What John Browett has never been able to do, Ron Johnson's successor from the Best Buy chain, busier in organizing cost and staff cuts. Responsible for this casting error, Tim Cook is convinced that this time he has found the rare pearl.
Angela Ahrendts, crowned with her impressive results at the head of Burberry, where she has tripled turnover in seven years, demanded to lead both physical sales and that on the Internet. There is indeed part of his magic recipe for the tartan brand. The Regent Street store in London is a model of its kind. Perhaps even the example of the store at xxie century, conceived as an experience halfway between a store and a website. The music, produced by the legendary trench coat label and recorded live in the store, is broadcast at the same time on the shelves and on Burberry.com. Louder, when approaching a mirror, a video is triggered with a mannequin carrying the item you have in hand … Of course, salespeople are equipped with iPads on which they can find everything in a few seconds. the customer information they have in front of them.
A studious childhood
A month and a half after arriving in Cupertino, the new Apple Store priestess sent a memo to her troops. She indicates her priorities: "Keeping the consumer experience this simple for any Apple product " and, at the same time, "develop in new markets, integrate our platforms and develop new technologies ". She reshaped her team, in particular by giving the stripe to the head of the Chinese network. She knows this market very well, having succeeded in deploying 71 Burberry stores in thirteen of the fifteen largest cities in the country. A feat.
Angela Ahrendts has also spent a lot of time chatting with her teams, in San Francisco and Tokyo. There is in this woman an astonishing ease to pass from one universe to another. Her Madonna smile and empathetic attention have always worked wonders. The former cheerleader, pretty and gifted for tennis, grew up in New Palestine, a small town in Indiana, where she has always been "the center of attention but never condescending ", as one of his former comrades said. Third of six siblings, hardworking, always in the front row, knowing her lessons on the fingertips, Angela Ahrendts knew how to stay popular.
From her family, so typical of deep America, she retained an intense Methodist faith and unwavering self-confidence. In 2010, she returned to her Indiana University to deliver the graduate speech. In front of the young people dressed in their traditional toga, she took out her MacBook Air to read the text that she had patiently written for weeks to galvanize them by proving to them that they have in them the key to success, in her eyes: the "core values ​​of the Midwest ".
A high level of requirement
"I didn't raise you to just do well, his mother launched to him one day, she says in this speech. Well, that's the enemy of super! " A lesson in excellence that the young girl, passionate about fashion magazines, who spends her time dreaming of New York designers has never forgotten. "My father taught me to be careful of my impact on the lives of others, "she added. A requirement that she formulated a little differently, in 2013, during a TEDx conference, where personalities come to deliver inspiring messages: "I have always thought that my job was not only to create great brands, but also large companies. "
To illustrate "the power of human energy ", based on confidence, in herself and in others, she likes to tell about the lunch that changed her career. We are in 2006. Rose Marie Bravo, CEO of Burberry, wants to hand over. Her stylist Christopher Bailey, with whom she started to relaunch the brand, suggests the name of Angela Ahrendts.
The two met in New York a few years earlier at Donna Karan's. When she receives the call from the boss of the British label, Angela Ahrendts feels that the opportunities for a woman to become CEO do not often present themselves. The problem is that at this time she has three children under the age of 10. She knows that the change of continent is going to be tough for them. She also suspects that her husband will have to give up his job. Her husband, Gregg, who was her high school sweetheart, has already left everything in Indiana after seventeen years of long-distance relationship to settle in Manhattan and marry her …
The will to control everything
The long meal shared with Christopher Bailey will be decisive. "We spent two hours talking about energy and building a strategy on a corner of the tablecloth ", she reported during her TEDx talk. The consultants hired by the shareholders to evaluate the strategy estimate its chances of success at 5%… The symbiotic duo formed with the designer and his ability to draw the crowds will enable him to turn the tables.
Both will be immersed in the history of the brand – "born in a coat" – to develop it. Both give it a very technological coloring. It is the first luxury label to tame social networks. Questioned by the Wall Street Journal in 2010, she even has this sentence: "If I look elsewhere for a model, the only company I see is Apple. It's a brilliant design company that works to create a lifestyle, and that's exactly how I see us. " Astonishing.
Behind her angelic smile dressed in Burberry, Angela Ahrendts knows that the devil is in the details. "I feel like I spent my first years at the head of Burberry buying the company ", she explains in the same interview. Because of its strategic vision, but also certainly by its stubborn desire to control everything, it puts tremendous pressure on its suppliers. The takeover of perfumes is, in this respect, exemplary. In December 2010, while preparing with Interparfums, its subcontractor, the gigantic launch of the fragrance called Body, she calls her CEO, Philippe Benacin, to inform him of her desire to terminate their contract.
For some time now, a representative of the tartan brand had moved into the Parisian premises of the perfumer and attended the meetings. This is no longer enough for the boss of Burberry. After a two-year showdown, Angela Ahrendts ended up signing a check for 181 million euros in order to regain her autonomy and invest heavily in beauty. "If you don't control everything, you don't control anything ", she slices.
From a model family
"I have never been more confident that someone could lead our in-store and online teams as well as when I met Angela., wrote Tim Cook to his employees upon the announcement of his hiring. We've gotten to know each other over the past few months, and by the end of each meeting I was even more impressed. " Soon to be 55, the ambitious worker from New Palestine has lost none of her energy. "I got my MBA from Burberry, but I'm going to get my doctorate from Apple ", she said to one of her new assistants. Shrewd observers of the apple firm believe it could even succeed Tim Cook. She who likes to connect her left brain to her right brain will perhaps seek her possible consecration from another designer, Jonathan Ive, the one who designed the iPhone.
Her husband and their three teenagers packed their bags to cross the Atlantic. Bernese mountain dogs and cats ragdoll followed them a little later. Direction California. With the rest of their family from Indiana, at the end of the summer they celebrated the 20th anniversary of this model couple. A considerate husband looking after the home and a wife who seems to be successful. Lots of smiles and hugs on the backdrop of romantic music. The picture of the perfect American family. The image is as smooth as the metal of an iPhone 6 case and the decor as luxurious as an Apple Store. Angela Ahrendts will likely succeed in her paid assignment $ 35 million per year. His life strangely resembles the ideal advertisement for the firm created by Steve Jobs.