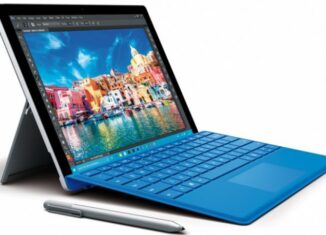 What if Microsoft had finally understood everything in the world of tablets? The American giant took some time to come to this market opened up by its competitor Apple, even missing the boat with its first models. But with its Surface Pro, fourth of the name, it is on the perfect level. Because every tablet and laptop user has understood that you cannot decently carry around two devices all day long.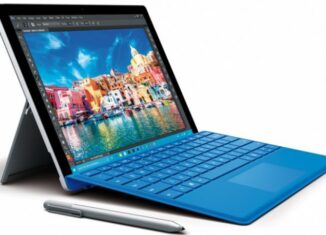 Here then is the hybrid product which combines the advantages of one and the other while reducing their defects as much as possible. In short, the essential two-in-one on the go. Do not expect a visual "wow" effect, like the one that the competitor's iPad Pro can get at the apple. But Microsoft's open universe makes the difference in the field of professional use.
The Surface Pro 4 is presented above all as a 12.3-inch tablet, with a reasonable weight of 786 grams, given its size, and to which you can attach a keyboard to transform it into a real laptop.
Because the machine has it under the hood: latest generation Core i5 processor for the model tested, 8 GB of RAM, a 256 GB hard drive … This on-board power allows you to run all the professional software of the Office Pack, but also greedy software like the CAD tool AutoCAD for the most powerful version (Core i7). It obviously runs on Windows 10, the new in-house operating system, rather well thought out this time.
The essential stylus
Note the great return of the stylus, revised and corrected. A simple pressure on its top and OneNote launches itself to take notes in the simplest way possible, thanks to its multiple pressure points, almost like with a normal pen. Its very nice bright, contrasting screen with a resolution of 2.736 × 1.824 pixels also makes it a good multimedia companion, for watching movies or playing video games – light. With a screen larger than a simple tablet, viewing becomes particularly comfortable. The sound quality of the device is also very satisfactory.
The acquisition of such a product nevertheless involves putting your hand in the wallet. It takes 1,449 euros for the model tested, only for the tablet. Added to this is the Type Cover keyboard at 150 euros. A very premium invoice that reaches that of the most beautiful ultrabooks on the market. But with the advantage of having a versatile product.
WE love :
Versatility: Surface Pro 4 is one of the best high-end 2-in-1s on the market.
-The stylus: a tool that is once again essential thanks to its precision and ease of use.
We like less:
-The price: 1,600 euros for the tested model, a very high price that makes you think.
-The autonomy: the main weak point of the machine. Microsoft sells nine hours of battery life. But it all depends on the use that is made of it.