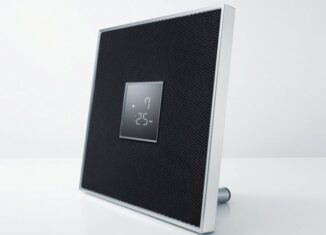 The wireless speaker has become the indispensable partner of the smartphone for listening to music. You still have to know which one to choose, as the offer is abundant. Between those who favor mobility and those who opt for quality sound at home, not easy to decide.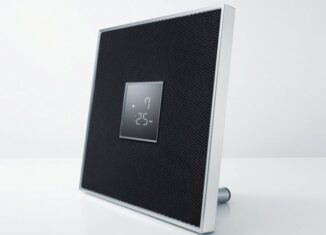 Yamaha provides a rather original solution via its Restio ISX-80 system, a compact and design speaker to be mounted on the wall or placed on a piece of furniture. It takes the heritage of its predecessor the ISX-800, while bringing it up to date. The Japanese manufacturer does not hesitate to talk about a conceptual audio player as it contrasts with the competition.
Here is a frame of 30 centimeters which looks like a mirror from a distance. You just need to get a little closer to understand that the mirror in question is a digital screen, surrounded by an enclosure protected by a sheet of steel mesh, available in white, black or purple. The device is 5.5 centimeters thick and has a large volume to reproduce sound.
And the sound in all of this?
If the Restio is proudly displayed, its controls are invisible: at its top, six very discreet keys. Most of the functions fit on a small remote control, but the real control tool remains the smartphone, via the MusicCast Controller application, name given to the technology developed by the Japanese and which allows to create a multiroom system to broadcast music in all rooms of the house. It is thus possible to connect, via the Wi-Fi, Bluetooth or Airplay network, a sound bar, mini-system, CD player, mobile speaker, hard drive, etc. Sound enthusiasts can stream music anywhere in their home or select sources. different for each part. Of course, the device is compatible with streaming music services like Spotify, Napster or Deezer. And it incorporates an FM radio tuner.
The sound in all of this? It is transmitted by two soft dome tweeters and two woofers. If the Restio reproduces the highs perfectly and clearly, we are still hungry for the bass on certain compressed files. But the device is High Res compatible, the new high-resolution format developed by manufacturers to stick as closely as possible to reality. The power of the amplifier displays 2 × 15 W.
Yamaha's Restio ISX-80 sells for 499 euros. A price that places it against renowned competitors. But it will appeal to those who are also looking for a device with an elegant aesthetic while being part of the dynamic of tomorrow, the multiroom.
WE love :
MusicCast: Yamaha's multiroom and high-fidelity system.
The alarm: the device has an alarm function, for difficult mornings.
We like less:
The color purple: it's not the happiest of the three.
The Wi-Fi connection: the application did its best during the test.