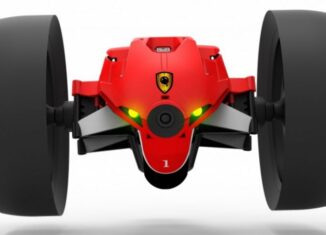 Parrot knows how to talk to the big child who sleeps deep inside each of us. With his Jumping Race Drone, he awakens the soul of the kid fascinated by the remote control cars that we could be. The French group led by Henri Seydoux is blowing up all our adult complexes by anchoring its many drones in the category of geek products. And it's a hit! This segment now represents 44% of the turnover of the SME!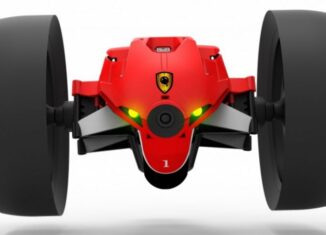 The Jumping Race Drone is a new generation minidrone which is similar to the large family of connected objects. Gone are the good old wired or infrared remote controls. With its large rubber wheels, this robot is ready to ride on any terrain. And the camera planted in the middle makes it look like a futuristic cyclops.
Relatively modest in size (18.9 × 15.5 × 11.6 centimeters), the Jumping Race Drone has a mind-blowing top speed: 13 kilometers per hour. As its name suggests, the minidrone is the king of high and long jumps: up to 75 centimeters. Perfect for performing improbable tricks or startling office colleagues. And the machine displays an almost foolproof resistance. Launched at top speed, the Jumping Race Drone will be able to perform long jumps or very playful 90-degree turns. Thanks to its integrated camera, microphone and speaker, it can also shoot videos and communicate remotely.
The drone can be controlled from a smartphone or tablet (running on iOS or Android). To do this, you have to connect the two via a Wi-Fi network. It's easy. Everything then goes through the FreeFlight 3 application. The screen transmits the image produced by the camera live, which allows the machine to be maneuvered even if it is out of its field of vision.
Sophisticated high-tech object
The manufacturer announces a maximum distance of 50 meters, which will be reduced depending on the user's environment. Controlling the machine is not easy from the first start. Far from there. While it is relatively easy to go straight or backward, it becomes more difficult for turns, as the machine only performs 45- or 90-degree turns.
Jérôme Bonaldi, the ex-geek icon of the Paf, would have found this object rigorously useless, therefore, totally essential. However, its applications are endless in the field of games, where it is easy to imagine the competitions of drones rolling with friends. But also on social networks, where the best videos will be exchanged. The most serious will invent professional opportunities. The Parrot Jumping Race Drone is sold for 199 euros. A still reasonable price for a sophisticated high-tech object.
WE love :
Fun: the Jumping Race Drone is very effective for relaxing.
Application: getting started is immediate and extremely simple.
We like less:
Noise: the object growls loudly and makes red eyes as soon as it is lifted from the ground.
Autonomy: rather reduced, especially when the user abuses the "jump" function.